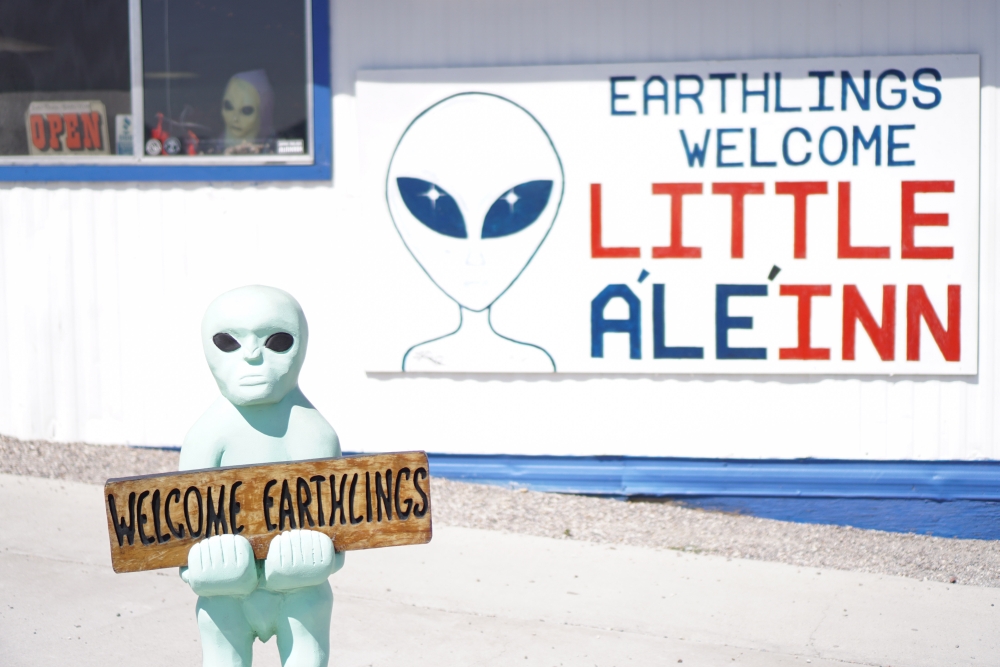 Road Trip! How to Visit Area 51 from Las Vegas Without Getting Abducted
"Dogs flew space ships! The Aztecs invented the vacation! Men and Women are the same sex! Our forefathers took drugs! Your brain is not the boss!"
Hello, Seekers. This past September, I took my humble Chevy Sonic and a crew of amateur Ufologists (my mom and girlfriend) miles into the open desert in search of Area 51, the mysterious epicenter of all things extraterrestrial. As it turned out, not only was the road trip a breeze (about 4.5 hours round-trip), it turned out to be a lot of fun with great desert scenery and lots of kitsch to gawk at.
Before heading out on your own journey for the truth, here are a few quick pointers:
Make sure your car is in fine working condition. You don't want to get stuck out there.
In case you do get stuck, make sure your spare tire is ready for action, your jack is jackable, your tire iron is ironed out, and your AAA membership is current. The roads to Rachel, NV are relatively smooth so this is more precaution than anything else.
Print out the Google Maps before you leave the house. Reception will be spotty. Good to have a paper backup.
Leave on a full tank of gas. There will be opportunities to refuel at Alamo, NV (roughly the halfway point), but I don't know what your vehicle is like.
For a very detailed step-by-step and turn-by-turn guide to Area 51, visit Vagabond3's comprehensive rundown. Use my post as a Cliff Notes version.
From Las Vegas, you're going to head north on the I-15 N in the direction of the Las Vegas Motor Speedway (EDC fans, you know what I'm referring to). There's not much to see on this leg of the trip. 21 miles outside of town, turn onto exit 64 for US-93 N (if you see Love's Truck Stop and a bunch of solar panels, you're at the right place).
This leg of the drive is the longest, about 85 miles. Put on a good audiobook and watch the desert scenery go by. There aren't any worthwhile stops until the last portion of the drive. Just let it go by.
About 2/3rds of the way down US-93 N you'll start to see some unusual objects. These are called trees. They are green and they convert carbon dioxide into oxygen through a process called photosynthesis. They live many places, and as it turns out the desert can be one of them. Nearby is the Pahranagat National Wildlife Refuge, an veritable oasis of wildlife, outdoors activities, and prehistoric artifacts. I'll cover this area in another post; we've got aliens to find.
Past Pahranagat you'll encounter the town of Alamo, NV. This is your refuel stop. Get some gas, check out the market for snacks, and keep moving (if you're a resident of Alamo and would like to share the great things to do in your town, please share in the comments below).
A few miles north of Alamo you'll encounter NV State Hwy 375, the infamous Extraterrestrial Highway. Turn here, and pull over for a photo with this handsome sign:
You're almost there! This highway is going to take you the rest of the way to your ultimate destination: Rachel, NV, some 40 miles more. Things will start getting weird. For example, almost immediately you'll notice this looming figure on the horizon:
This massive Martian marks the metallic margins of the Alien Research Center (& Gift Shop). Hours vary, but if it's open walk on in. All manner of alien consumables await within. Get a souvenir (I recommend choosing from their impressive selection of Star Wars Episode I: The Phantom Menace collectible pins) and ask the cashier for some UFO hunting tips. I'm sure he'd appreciate it? One doesn't work at the Alien Research Center without giving a damn about this stuff.
If you refer to the Vagabond3 guide linked earlier, you will see mentions of two upcoming sites: the "Black Mailbox" and the Front Gate of Area 51. The Black Mailbox is/was a white mailbox (🤷) somewhere between the 30 and 29 mile markers. We looked pretty hard for this and could not find it. Later on at the Little A'Le'Inn, someone at the bar mentioned that the mailbox was removed. Removed? By whom? Something isn't adding up. I take it as a sign that at those mile markers I officially passed into an alternate dimension. Am I still who I think I am? Is my brain still the boss?
The Front Gate of Area 51 sounds remarkably unimpressive. Drive 20 miles out into unpaved desert to find a "Keep Out" sign? No thanks. Skip this unless you're really driven (and so is your car, because it'll be a bumpy ride).
Keep on down the Extraterrestrial Highway and you will reach Rachel, NV, home of the Little A'Le'Inn. This is where most people will stop, grab a burger, and head home. We're going to go a little further, but do take the opportunity to support this little business and take plenty of photos outside.
Had your fill of Alien Burgers? Got your little green knick-knacks? Pinned a dollar bill on the roof of the bar? Excellent. Let's get dirty.
The Back Gate of Area 51 is 8 miles out into the unpaved desert. You'll see the turn-off between mile markers 12 and 11, just south of Rachel. My little Chevy Sonic was able to handle the drive, but you'll have a better time in something a bit more off-road capable. Still got that tire iron? Watch out for free-roaming cattle. Apparently they've been known to take out a few cars.
Keep driving. Keep driving. You'll start to worry. Is this the right road? There's nothing around here. I have no reception. What happens if I get stuck? This can't end well. It might not. I can't predict the future.
Then, all of a sudden, pavement. What? Where did this come from? The pavement will be a relief to your jostled body. It is also a sign that you're approaching something…
Behold: a photograph of dubious legality of the alleged Area 51. We didn't dare get any closer out of respect (and a hint of ookum-spookums) for the poor fellows guarding this outpost in the middle of the Mojave. This is a good opportunity to note that you should really not go beyond this point. The signs you see in the photo read that they will shoot dummies that try trespassing. Don't be that dummy. Also, if you see guards, don't take their photos. Just smile and wave. Better yet, turn around and go home, same way you came. If anyone asks, you saw nothing.
What lies beyond is likely immeasurably dull and disappointing, but hey, a journey is a journey. On this short day-trip from Las Vegas, I found that the real Area 51 is the friends we made along the way. Hold on to that close to your heart and remember that while the truth may be out there, it probably won't save you.
Well, seekers? Did I missed anything? Let me know about your experiences with Nevada's Extraterrestrial Highway in the comments below.