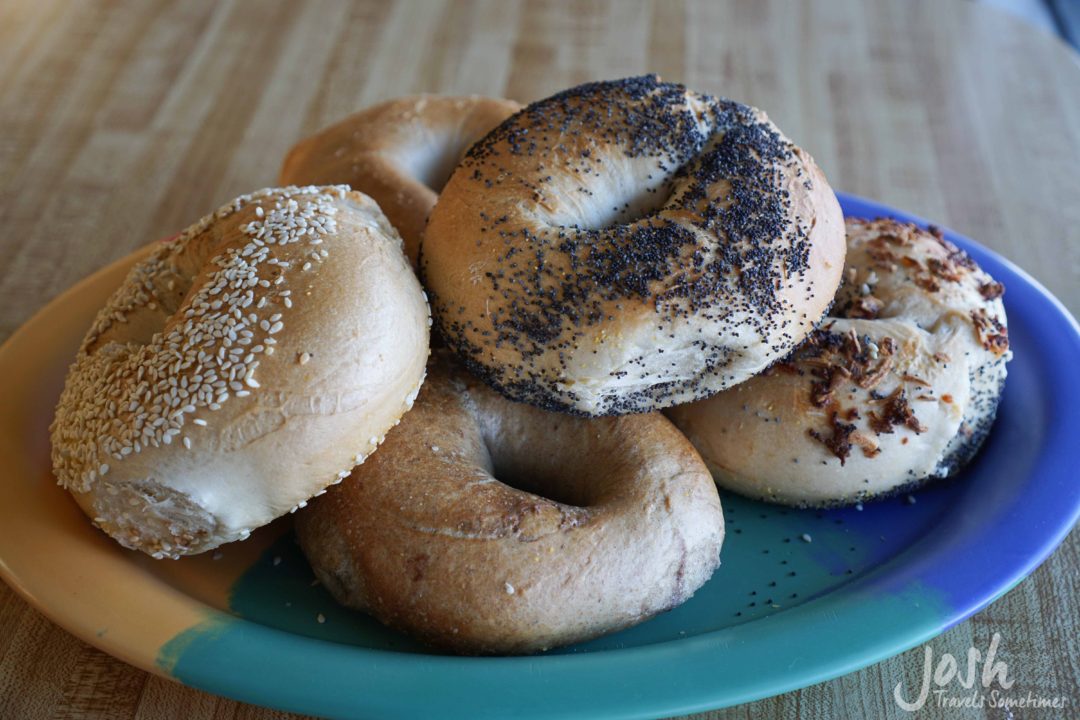 Bagelmania Serves Up the Best Bagels in Las Vegas
Nothing conjures up my childhood like a good old fashioned Jewish deli. The corned beef, the lox, the brightly-colored soda bottles, the grumpy regulars and their strange aftershave, but above all else the bagels. No breakfast seemed complete without a warm bagel fresh from the oven, topped with a schmear of alabaster cream cheese to transform the leavened discus into something positively geshmak.
Replicating this warmth and connection to tradition is no easy task; many delis rise and fall on the credibility of their knish, the boldness of their brisket, and the causticity of their chopped liver. Even with the correct flavor formula in place and the right location set, no deli is complete without its regulars. The businessmen, the rabbis, the grumps, the families, the black sheep of said families cradling well-worn volumes of Ginsberg ("what can he do to escape that fatal Mama—"). It's a Last Supper of East Coast American Judaism, frescoed on the wall of a Hollywood, FL condominium lobby, chipping away into obscurity with age and gout.
Bagelmania in Las Vegas retains this vibe. One of a surprising number of fine Jewish delis in Las Vegas, Bagelmania focuses on what its been doing best since 1993: New York-style bagels. Real-deal boiled and baked in every variety under the sun. Beyond the deli counter, a cozy and intimate dining area invites one to pull up a chair and dig into one of many classic entrees: pastrami on rye, matzo ball soup, corned beef hash, eggs Benedict, smoked whitefish…
But you'll have to see (and taste) for yourself. Bagelmania hasn't disappointed this disaffected Jewish blogger yet, but enough kibitzing from me.
Disclosure: I am employed by a company that counts Bagelmania among its holdings. I did not receive additional compensation for this blog post — simply documenting cool stuff in town. What could possibly be cooler than bagels?