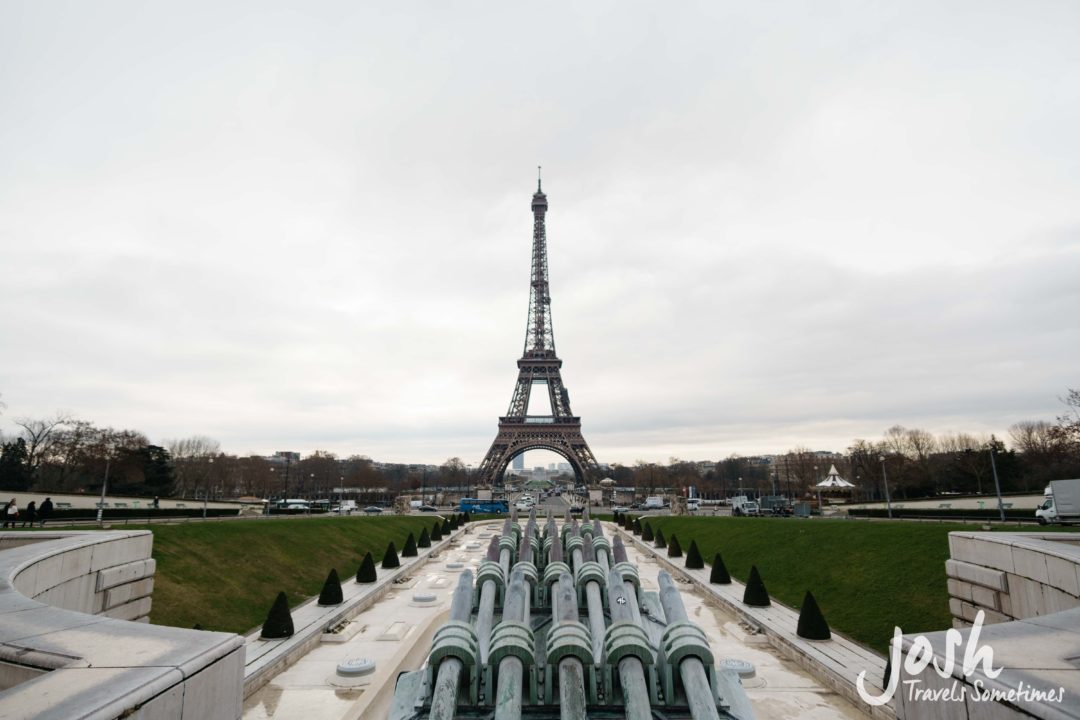 Phew! Reflecting on 18 Days of Non-Stop European Travel
From the middle of March to the end of April, Josh Travels Sometimes to Europe, starting in London and making his way down to the south of France and ultimately to Rome. From Rome, our intrepid traveler will somehow manage the work-life balance of a temporary digital nomad. These are his stories.
Phew. Of all the words in the English language (and an increasing number of words of the Romance variety) that are available to draw from my vocabulary, "phew" best describes my current mood.
On March 15th, I made my way from the increasingly Dantean hell-scape of Las Vegas to Europe, my first time leaving North America. From London, we found ourselves tossed between trains that made a slow trek through Paris, to Provence, to the French Riveria, and through the Italian countryside to the Eternal City.
Now finally settled in Rome (and not going anywhere for a while), the pressures of itineraries, flight schedules and hours of operation are lifted. For now.
Here's a quick summary of my travel thus-far, each to be expounded upon in future posts:
London
We started the journey in London for two reasons: one, it presents an opportunity to check off several "bucket list" items in short order; and two, flights from Las Vegas to London in March are insanely affordable. Couldn't say no.
On arriving in London, we were greeted by jet lag and the so-called "Beast from the East 2.0," a cold front from Russia that threatened the UK with a blanket of snow. Chilly but determined, we braved the snowy London streets and enjoyed the collection at British Library and the Platform 9 3/4 gift shop and photo opportunity at Kings Cross (a must for Megan).
Our first full day in London was magical, simply because it was spent at the Warner Bros. Studio Tour — The Making of Harry Potter (another must for Megan). Even colder and snowier, our train beat on from Euston to Watford where the magic literally and figuratively happened at Warner Bros. studios (okay, enough magic puns). There at the studios, countless set designs, props, and costumes are on display as you make your way from the Great Hall through the Forbidden Forest to the admittedly-impressive and detailed model of Hogwarts used in every exterior shot in the films. A delight for fans of the film franchise.
Itching to tick some items off of MY list, we returned to London Town and made way to Hampstead to take in the Keats House, the one-time home of poet John Keats and the spot where he wrote "Ode to a Nightingale." Other sights this day included the Jean Cocteau mural at Notre Dame de France in Piccadilly, Trafalgar Square, and Shakespeare's Globe.
Our last day in London started with a full English breakfast, fueling our wanderings past Buckingham Palace, through the British Museum, to an Evensong performance at Westminster Abbey. The day culminated with the best cinnamon roll I've had in my life. More on that stuff later.
Paris
So much to see in Paris and only four days to do it. As such, Paris was a flat-out mad dash. Somehow, miraculously, we conquered the following:
Eiffel Tower (top closed due to snow but we enjoyed the first two levels)
Versailles, the Versailles gardens, and the Petit Trianon (home of Marie Antoinette)
The Catacombs
Pere LaChaise cemetery
The Tomb of Napoleon at Les Invalides
The Louvre
Shakespeare & Company
Notre Dame
The Pantheon
Musee d'Orsay
Arc de Triomphe
So much food
Insanity. Total insanity. But we did it. And we felt like this at the end:
Provence
Provence, in the grand itinerary I planned, was meant to be the relaxing part of the vacation. Our home-base was St. Remy de Provence, a quaint town central to everywhere and anywhere we wanted to travel to in the region. The high-speed TGV train took us from Paris to Avignon where we picked up our rental car. It was a manual. I had driven a manual only twice before (thanks Norma Jean!) and it took me all four days of our stay to get the hang of it. Not one to brag, but I'm pretty great at it now…
Provence provided us with activities that spoke to both of our interests, including:
The Palace of the Popes in Avignon
Roman ruins at St. Remy and Arles
The birthplace of Nostradamus
St. Paul's Asylum, where Van Gogh painted "Starry Night" among many other masterpieces
Wanderings through the towns of St. Remy, Arles, Gordes, Roussillon, and Les Baux
Carrières de Lumières light show at Les Baux
So many crepes
Côte d'Azur
I squeezed in a couple of days on the French Riviera at the tail-end of our vacation for entirely selfish reasons. As a longtime fan of the filmmaker/artist/poet Jean Cocteau, I desperately wanted to see the region that inspired his work. Essentially, I planned a Cocteau marathon that brought us to most of the major points of interest.
We stayed at the Hotel Welcome, Cocteau's on-again off-again home in Villefranche-sur-Mer. From this home base, we tackled the following:
Monaco and Monte Carlo
Chapelle Sainte-Pierre (fresco'd by Cocteau)
Rue Obscure
Villa & Jardins Ephrussi de Rothschild
Musee Jean Cocteau in Menton
So much bouillabaisse
One thing on our list that we unfortunately could not see was the Villa Santo Sospir, Cocteau's home on St. Jean Cap Ferrat that contains many fresco'd walls by the artists. Although we had reservations to see it, the homeowner simply forgot that we were coming and was in Paris at the time of our visit. The next time you feel like giving museum staff some grief, be thankful they bothered to show up!
The end of our holiday in the French Riviera turned into a nightmare. We were supposed to spend a leisurely afternoon in Nice prior to our flight. Check out the old town, the beach, eat some delicious food. We did all of that for sure, but some poor weather was on the horizon and it hit just as our flight was imminent.
After several hours of delays, the flight was ultimately canceled. On the Thursday before Easter. All flights to Rome were completely booked until the 2nd of April. After two weeks of virtually zero travel hiccups, we were stuck.
After some quick thinking, I decided to do something a little crazy. We spent the night in Nice (admittedly our least-favorite location of the vacation) and in the early morning hours we boarded a train to Genoa, Italy. From Genoa, we transferred to a local train to Rome, which arrived nine hours after our initial departure. Exhausted but not defeated, we slept in Rome after a day wasted.
Rome
With only a few days before Megan's return to the US, we had some decisions to make. Which of the city's many sights would we try to squeeze in on the Saturday and Sunday of Easter? We chose the following:
The Colosseum
Trastevere
Trevi Fountain
Palatine Hill
Easter Mass at St. Peter's Basilica
Pantheon
Piazza Navona
I could go on and on about Easter at the Vatican, and I will soon on a different blog post. An insane experience, even for this atheistic Jew/Catholic hybrid.
And that brings us to today where my main goals are laundry, napping, and writing this blog post. Stay tuned for updates from Rome and stories from the places mentioned above. If you have any recommendations for Rome, please comment below.
Phew.