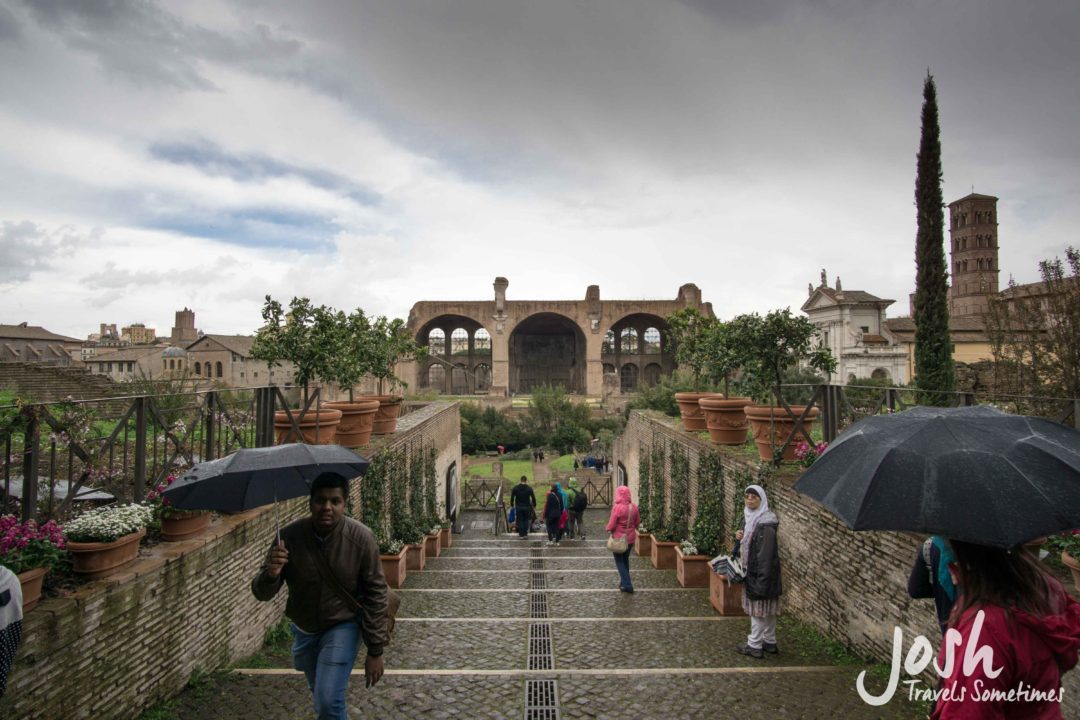 A Rainy Day in Rome: Thoughts So Far
The unpredictability of Spring makes itself known once again. The well-trod cobblestones of Trastevere, home yesterday to locals and tourists alike savoring a sunny stroll, are now united under a sheet of dark rainfall. Save for the gentle pitter-patter of droplets on nearby awnings, Rome is as quiet as a holiday. Everyone, it seems, knows the routine. Stay inside, get some work done around the house. Mother Nature will shine favor on a new day.
Besides getting my own house in order — laundry, washing my hair (which has been immaculate thanks to my room's strong and generous water heater) — I've had some time to think about my time in Rome. Now on Day 10 in the Eternal City, I can't help but reflect on the motivations that brought me here, the goals I made for myself in this alien city, and what I have/have not accomplished so far.
The idea that brought me into this current position seemed simple, belying the inevitability of further complications. Las Vegas, my home for the past 10+ years, grew increasingly tiresome and aggravating. I value the relationships I've built in Vegas over the years more than any other, but there was something about the city that weighed on my shoulders like a stone. Perhaps familiarity did not necessarily equate to fondness. The hiatus of my band (and longest-held friendships of my Vegas life) also impacted me, and work, while generous enough to afford me this current opportunity, grows increasingly hostile and stressful. Something needed to change.
A holiday in Europe was a good initial solution. Get out of town for a little bit, recharge the batteries, see some sights of cultural and naturalistic value, and rejoin the rat race. But, what if I could do this a bit differently? My laptop is a gateway unto the entire world; what would it be like if I didn't come back?
Allora, a plan took shape: get to Europe, enjoy some time disconnected from the stresses of the everyday grind, then simply stay put. Live a "mini-life" in another city, another country. Connect with my peers and show value while being physically absent. Embrace the lifestyle of another culture to the furthest extent I could muster. Here, Shelley becomes my Virgil:
    Go thou to Rome,—at once the Paradise,
    The grave, the city, and the wilderness.
Rome it is. Rome it always was. April, with its wild Spring, would be my Roman month, and within it I would hopefully find what I was looking for.
I set some loose achievable goals for my stay in Rome. In no particular order:
Start this blog (hello), write things of interest and importance and perhaps a handful of people will find some entertainment therein.
Reconnect with the feeling of astonishment and exuberence over art, the creation and bearing witness to it.
See life from the perspective of the average Roman, and thereby inform my own sensibilities.
Experience the cultural gemstones the city has to offer without speeding through with the tourist throngs.
Meet some people and forge friendships I can revisit long after I return to the States.
Eat quality food and learn to cook some of it.
10 days in and the scoreboard shows more hits than misses. The blog is underway, although my updates aren't as frequent as I would've hoped (it's a work-in-progress). Seeing so much art not just in Rome but in the UK and France has left my heart full and inspired. Spending time in the room Keats died in (or by his graveside) or along the seafront where Jean Cocteau divined his Orphic epics lit a fire under me to create or be forgotten.  A return to creative writing or music calls to me through these ancient archways and along the fallen aqueducts.
The monuments and museums are slowly being ticked off the list, as well as some experiences that are outside the typical Grand Tour mindset. The Colosseum, The Forum, the Capitoline Museum, Ara Pacis, Spanish Steps, and the Vatican have all been conquered thus far. Extended wanderings to the EUR, Ostia Antica, and Castel Gandolfo put me in unfamiliar waters (literally and figuratively) but all afforded me opportunities to see lesser-traveled sites and meet authentic people living their lives in this great city.
The experience has been lonely to date; I miss home and the people I love, and making friends here has been a challenge. I've so far been unable to make any lasting connections with people, thanks to a combination of the language barrier and my own social inadequacies. The fight continues, however, and I have great hope in a number of English-language networking events I've RSVPd to in the coming days. Stay tuned for updates on that front.
The food has been incredible, by the by. I'm trying to not spend a colossal amount of money this month, so my food budget has been decidedly frugal. Local hangouts like the Testaccio market have been a bounty of affordable quick bites and groceries (I've made gnocchi for dinner 4 of the past 10 days) and events like La Citta della Pizza took my tastebuds on an affordable taste tour of Neapolitan pizza. Today, I look forward to broiling up some massive asparagus I picked up from the culinary theme park that is Eataly.
And that is where I'm at so far on this journey. The clouds are starting to part, and tomorrow looks like it will be as pleasant a day as they come. To a new day, new experiences, and a new start.